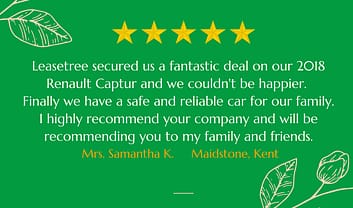 I just wanted to thank you for taking the time to contact me and working hard to find a lease car suitable for our family. Your professionalism and communication made a huge difference in us accepting the lease car from the company you referred us to. Leasetree secured us a fantastic deal on our 2018 Renault Captur and we couldn't be happier. Finally, we have a safe and reliable car for our family. I highly recommend your company and will be recommending you to my family and friends. 
Mrs. Samantha K.      Maidstone, Kent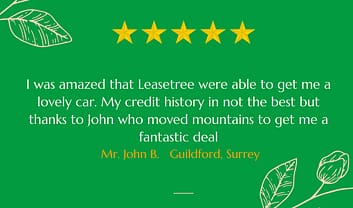 I was amazed that LeaseWiz were able to get me a lovely car. My credit history is not the best but thanks to John who moved mountains to get me a fantastic deal.
Mr. John B.      Guildford, Surrey
I was looking for a hybrid Evoque and LeaseTree found me a great deal – 5 star service. 
Mr Mike L.      Wimbledon, London
Great deal and excellent service
Kevin P, Birmingham
Needed a good used car quickly and John at Leasetree sorted everything – we will be back!
Jan and Dave P.      Liverpool